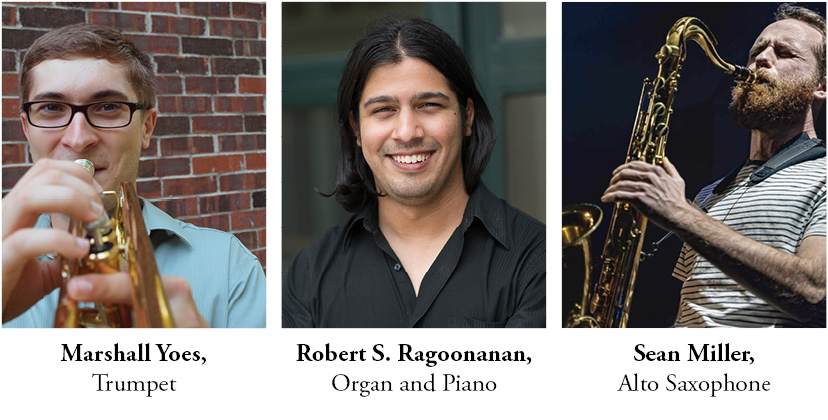 Gertrude Husby & Ingebor Husby Smith Memorial Concert
Music for Organ & Piano
Featuring
Robert S. Ragoonanan, Organ and Piano,
with Sean Miller, Alto Saxophone,
& Marshall Yoes, Trumpet
Saturday, October 21
2:00 PM
Newman-Benson Chapel
at Lyngblomsten
1415 Almond Ave.
St. Paul, MN  55108
Free! No reservations needed.

Join us for a delightful afternoon of Music for Organ & Piano. The three featured artists will perform a variety of pieces form composers including Samuel Adler, Carlos Guastavino, Andre Waignein, Alan Hovhaness, Sharon J. Willis, and Naji Hakim. 
Meet the Performers

Robert S. Ragoonanan—Organ & Piano
Robert is a graduate of Luther College (B.A. in Music) and Bowling Green State University (M.M. in Orchestral Conducting). He has found success as a conductor across the United States and Europe and is a sought-after pianist, harpsichordist, and voice coach. In 2023 he was one of the recipients of the Advocate for Choral Excellence Award from the Minnesota American Choral Directors Association. Robert is currently the Minister of Worship and Music at University Lutheran Church of Hope in Minneapolis and the pianist for the Eagan Women of Note treble choir in Eagan. Learn more at robertsragoonanan.com.
Sean Miller—Alto Saxophone
Sean earned a master of arts degree in Woodwind Performance from the University of Iowa. He is a two-time winner of the Minnesota MTNA Young Artist Woodwind Competition and is the grand prize winner of Vandoren's Young Emerging Artist Competition. Sean is an active performer in the Twin Cities, including recent appearances with Mae Simpson, The Belfast Cowboys, The Stand-Ups, Riverside All-Stars, and Star of the North Jazz Orchestra.
Marshall Yoes—Trumpet
Marshall received his bachelor's degree in Trumpet Performance and Psychology from Lawrence University and his master's degree in Trumpet Performance and Music Therapy from the University of Minnesota. He works full time as a music therapist at MacPhail Center for Music while actively performing at venues around the Twin Cities. He has performed professionally in a wide array of genres and ensembles, including for the nerd-funk band Porky's Groove Machine, for which he also serves as musical director.
This free concert is made possible through the Gertrude Husby & Ingebor Husby Smith Memorial Endowment, established through the Lyngblomsten Foundation.
The endowment honors two sisters with a lifelong love of music and their Norwegian heritage. Gertrude was a high school English teacher who taught in Ada and Rochester, Minnesota. She died at Lyngblomsten in April 1997. Her younger sister, Ingebor, was an organist and choir director in Waconia, Minnesota. She passed away at Lyngblomsten in September 2001.
The fund was originally established by Ingebor to underwrite special needs for the Lyngblomsten chapel organ and worship music, provide stipends for organists and soloists, offer transportation costs for choral groups to come to Lyngblomsten, and provide for other music needs that periodically arose.
The endowment is also being used to respond to special needs of Lyngblomsten's musical groups and to provide therapeutic musical opportunities for residents. Special concerts, such as today's Memorial Concert, are included in the endowment as a means of enhancing musical offerings for the residents, families, and friends of Lyngblomsten.