5 Twin Cities destinations for summer fun
July 20, 2017
by Sam Patet, Lyngblomsten staff writer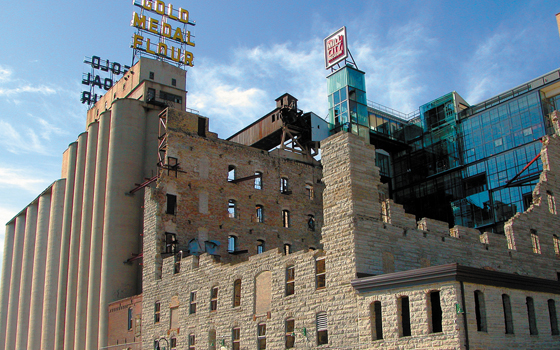 Taking a tour of the Mill City Museum in Minneapolis is one of our five outings you should consider this summer.
When you think of summer in Minnesota, what comes to mind?  Perhaps …
Weekends at the lake
Barbeques
Fishing
Outdoor concerts
Baseball tournaments?
Who wouldn't want to spend some time outside after months indoors during the cold of winter?
For older Minnesotans, however, getting out of their homes can be a challenge.  That's because as we age, we experience physical changes that can make it harder to do activities.
Perhaps you always felt comfortable driving at any time of day.  But you've noticed recently that your eyesight isn't as good, so you no longer feel comfortable driving at night.
Maybe you're a runner who enjoys jogging outdoors.  But now you're on medications that make you more lethargic and that cause you to feel unbalanced.  Going for a run on your own doesn't seem like a good idea.
Or perhaps you were diagnosed with Parkinson's disease, and you've started using a walker to move around the house.  You'd love to go to a local museum with your granddaughter, but you know the building doesn't have an elevator, so you wouldn't be able to visit the second or third floors.
With this in mind, we asked Barb Zeis, Manager of Adult Day Services for the Amherst H. Wilder Foundation in St. Paul, for some activities that are not only fun, but also elder friendly.  She organizes outings for older adults throughout the year.  Here are her top picks.
1.  Nicollet Island Park (Minneapolis)
According to its website:  "Located off Historic Main Street, the park contains a promenade with a view of the first dam on the Mississippi, built in 1858, and features the elegant Nicollet Island Pavilion."  It hosts a variety of live concerts and movies throughout the summer.  Check out its website (https://tinyurl.com/ybndpeer) for all the details.
2.  The Mill City Museum (Minneapolis)
The museum's website states:  "Built into the ruins of what was once the world's largest flour mill, Mill City Museum is located on the historic Mississippi Riverfront.  Here, visitors of all ages learn about the intertwined histories of the flour industry, the river, and the city of Minneapolis."  Learn more at www.millcitymuseum.org.
3.   Let's Go Fishing! and Fishing for Fun (locations throughout the Twin Cities)
Let's Go Fishing! (www.lgfws.com) provides older adults, veterans, and youth with fishing and boating outings at no cost.  Its website states:  "We impact thousands of individuals each year, and with the implementation of new programs, we now serve hospice patients (regardless of age), youth, veterans, and the disabled."  Twenty-four chapters are located throughout Minnesota and Wisconsin, including in Eden Prairie, Stillwater, and Hastings.
A similar nonprofit that Lyngblomsten has worked with is Fishing for Fun (www.fishingforfunmn.org), which provides fishing expeditions for older adults on Lake Johanna in Arden Hills.
4.  9 Nights of Music at the Minnesota History Museum (St. Paul)
From its website:  "The popular series, now in its 19th year, presents the rich and vibrant rhythms and sounds of Minnesota's multi-cultural community at free outdoor performances at the Minnesota History Center every Tuesday in July and August."  Concerts are from 6:30–8:30 PM.  In the case of inclement weather, the concert is held in the History Center's 3M Auditorium.  Lean more at www.minnesotahistorycenter.org/events-programs/nine-nights-of-music.
5.  The Minneapolis Institute of Art (Minneapolis)
A recent press release states:  "Home to more than 89,000 works of art representing 5,000 years of world history, the Minneapolis Institute of Art (Mia) inspires wonder, spurs creativity, and nourishes the imagination.  With extraordinary exhibitions and one of the finest wide-ranging art collections in the country—Rembrandt to van Gogh, Monet to Matisse, Asian to African—Mia links the past to the present, enables global conversations, and offers an exceptional setting for inspiration."  Learn more at https://new.artsmia.org.