Do "patient" and "flexible" describe you (or someone you know)?
July 20, 2017
If yes, then serving as a Lead Volunteer for The Gathering may be the perfect opportunity!
by Sam Patet, Lyngblomsten staff writer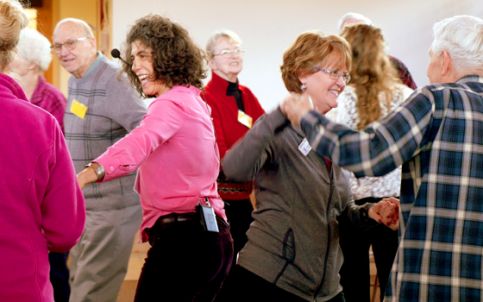 Gathering participants and volunteers enjoy some music and dance at a session earlier this year.  Instructors from Kairos Alive! led the activity.

Julie Omland loves helping others succeed.  That makes sense, as she was a high school language arts teacher for over 30 years.
Today, she's still helping others, though they aren't teenagers who are trying to master the ins and outs of the English language.  Instead, she works with older adults who are experiencing memory loss.
Twice a month, she serves as a Lead Volunteer with The Gathering, Lyngblomsten's day respite program for persons with early- to mid-stage memory loss and their caregivers.  The program is led by volunteers who receive training and oversight from Lyngblomsten staff.  A Gathering session lasts from 10 AM to 3 PM and is held at church sites in Roseville, West St. Paul, White Bear Lake, and Woodbury.
"I just think there are so many blessings that you can get from making a day that's positive for everyone," Omland said.  "How could you not have a passion about something like that?"
Carolyn Klaver is the Community Dementia Care Specialist for Lyngblomsten.  She explained that it takes many volunteers to make a five-hour Gathering session succeed.  These volunteers include:
One-on-one volunteers, each of whom spends the five-hour day with a single participant
Lead Volunteers, who plan the day's activities, communicate with participants' caregivers, provide direction and encouragement to one-on-one volunteers, communicate with Klaver and other Lyngblomsten staff, and ensure that the day runs smoothly
"Many types of people have served as Lead Volunteers," Klaver said.  They include not only teachers like Omland, but also a nurse, an FBI agent, a city planner, an engineer, an insurance agent, physical and occupational therapists, a lawyer, and many others.
"We have creative Lead Volunteers, some who are more logical thinkers, and others who are curious and like to dig a little deeper," Klaver said.  "I think the main qualification for a Lead Volunteer is someone who's patient and flexible."
Currently, Lyngblomsten is in need of Lead Volunteers at several sites, including Centennial United Methodist Church in Roseville, where Omland serves.  Klaver answered some common questions she receives from people who are considering serving as a Lead Volunteer:
A Lead Volunteer (or a one-on-one volunteer) does not need to be a member of the congregation where a particular Gathering session is held.
Ideally, a Lead Volunteer commits to serving for at least a year, which involves leading two Gathering sessions a month.
While Lead Volunteers do have to spend time beforehand planning the day's activities, they don't have to invest lots of extra time into the endeavor (although they certainly can).  Several Lead Volunteers can work together to plan a day, so the tasks that need to be done don't fall on one person's shoulders.
Perhaps you'd like to help, but you hesitate because you've never worked with persons with memory loss.  Klaver noted that all Gathering volunteers receive extensive training about dementia and how to plan a day's worth of fun, engaging activities for Gathering participants.
Omland herself said that the training from Lyngblomsten is excellent.  "The training gives you lots of good ideas about how to make that [a day at The Gathering] happen," she said.  "There's lots of good support.  You're not just by yourself."
What words of encouragement did Omland have for someone who might be on the fence about serving as a Lead Volunteer?  Give it a shot, as you'll receive much more than you give.
"It's a super job where there's nothing but blessing at the end," Omland said.  "I'm always physically tired at the end of the day, but I also feel very warm and good inside, and I think that anyone who goes to be a Lead Volunteer would find that to be true."
For more information about serving as a Lead Volunteer, contact Betsy Hoffman at (651) 414-5291 or bhoffman@lyngblomsten.org.  Learn more about The Gathering at www.lyngblomsten.org/thegathering.