Learn about 2nd Half with Lyngblomsten at Sampler open house
March 6, 2017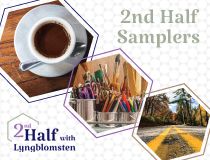 Join us this Wednesday, March 8, from 3–6 PM in the Lyngblomsten Community Room (lower level) to learn more about 2nd Half with Lyngblomsten, our new community-services model for adults ages 50 to 100+ whose goal is to help participants engage, discover, and thrive in the second half of life.
Come to meet instructors and Lyngblomsten staff, preview upcoming programs and trips, learn about resources, mingle with others who are interested in participating, get the new spring catalog, and win prizes.  Come for as long as you are able at any point during the open house.
For more information about 2nd Half with Lyngblomsten, visit www.lyngblomsten.org/2ndHalf.