What does it take to put on the Lyngblomsten Mid-Summer Festival? Teamwork!
July 20, 2017
by Sam Patet, Lyngblomsten staff writer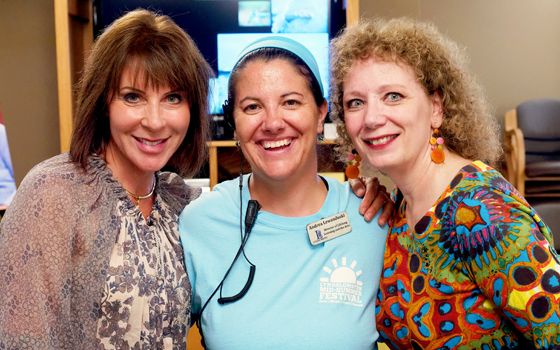 Festival coordinator Andrea Lewandoski (center) pauses for a photo during last year's Mid-Summer Festival with artists Cindy Steen (left) and Jean Bayer.

Many hands makes light work.
That's certainly the case when it comes to planning the Lyngblomsten Mid-Summer Festival.  Just ask Andrea Lewandoski, Director of Lifelong Learning and the Arts for Lyngblomsten.  This is her third year serving as Festival Coordinator.
"I don't think that other organizations that work with seniors really look at doing such a broad, well-rounded event like this that showcases the arts and lifelong learning," Lewandoski said.  "For staff from all these different areas to commit some of their time to helping plan and be present at the event is well beyond anything I've ever seen."
Planning starts six months in advance
Planning for the Festival starts at least six months in advance, Lewandoski said, in part so she can secure performing artists and entertainers for the day.  "It's amazing how many of them already have commitments, even that early on," she said.
Staff serve on committees
Over the next several months, she meets with a number of committees that are in charge of different parts of the day, including:
Arts and Entertainment
Arts Showcase
Community Engagement/Foundation
First Aid
Food
Hospitality
Games & Recreation
Publicity
Tickets/Finance
Transportation
Grounds
Volunteers
Most committees include staff from a variety of Lyngblomsten departments, Lewandoski said. Last year, staff dedicated over 1,200 hours to the Festival. She thinks these cross-functional teams are what make the Festival such a success.
"I really love the camaraderie between the different staff who come together," she said.  "Many of these people don't work together on a daily basis, but they're coming together to make sure that it's a team effort.  It's really neat to look around and see that everyone is dedicated to the same goals and a cause that is really beyond their normal line of duty."
These committees coordinate with outside partners, including:
Local artists and entertainers who will be performing or leading an activity
Food vendors (such as Grand Ole Creamery & Pizzeria)
Corporate volunteer groups
Rental companies (such as Ultimate Events, which is supplying the tables and chairs for the outdoor picnic areas)
And many others
Volunteers give hundreds of hours
It isn't just staff, however, who help the Festival run smoothly.  It also takes the hard work of many volunteers.  They help with everything—from setting up, to assisting at make-and-take art booths, to leading games and other activities.  Last year, 111 volunteers gave over 460 hours of service.  And this year, 125 are signed up to help!
"Some of these volunteers come back on a regular basis and say, 'That's my activity!  I have to do that at the Festival!'" Lewandoski said.  "People are waiting to sign up."
And when cleanup starts at 8 PM, everyone still gives 100 percent to get the job done.
"I think the cleanup goes so fast.  I can't even get around to all the areas," Lewandoski said.  "It just amazes me how fast everybody puts things back together."
As you can see, it takes a lot of people and a lot of teamwork to put on the Mid-Summer Festival each year.  Thankfully, the time and effort spent on planning pale in comparison to the smiles, laughter, and joy that attendees experience.
"Right in our mission it says that Lyngblomsten provides a ministry of compassionate care and innovative services.  To me, the Festival exudes both of those in such a wonderful way," Lewandoski said.  "We're really giving so many different opportunities for people to just enjoy a fun-filled day of art, music, entertainment, food, games, and fun.  They don't have to go far to take that all in.  And that in itself is innovative."
The Lyngblomsten Mid-Summer Festival is tomorrow, July 21, from 2–8 PM on the Lyngblomsten campus in St. Paul (1415 Almond Avenue).  Admission is FREE, and creative activities, food, and games are priced for affordable fun.  Bring the whole family!  Learn more at www.CelebrateMSF.com.