Learn about 2nd Half with Lyngblomsten at Coffee Talk next Monday
February 23, 2017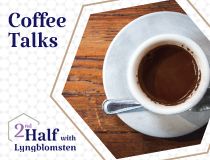 Join us next Monday, February 27, from 10–11 AM at Redeemer Lutheran Church in White Bear Lake (3770 Bellaire Avenue) to learn more about 2nd Half with Lyngblomsten, our new community-services model for adults ages 50 to 100+ whose goal is to help participants engage, discover, and thrive in the second half of life.
Come for coffee and treats, a brief presentation on social connections and well-being, and prizes.  Meet 2nd Half with Lyngblomsten staff and get to know other participants.  Plus get a sneak peek of upcoming opportunities.  And everyone who attends receives a free 2nd Half with Lyngblomsten coffee mug!
For more information about 2nd Half with Lyngblomsten, visit www.lyngblomsten.org/2ndHalf.