Love the Journey — Lyngblomsten celebrates Valentine's Day at all-campus party
February 14, 2017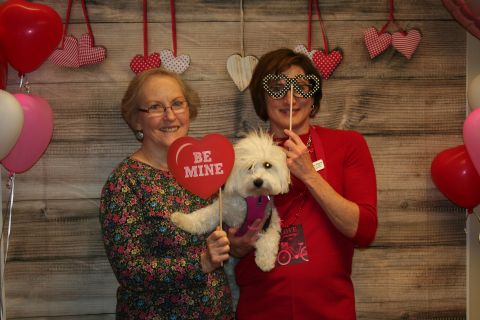 If you would have walked into the Newman-Benson Chapel this afternoon, you may have thought you were at a football game for Ohio State or Alabama.  That's because nearly everyone in the chapel was wearing the color red!  While we love the color purple here at Lyngblomsten, we were more than happy to let red (and its close cousin pink) take center stage at our all-campus Valentine's Day party!
The party theme was "Love the journey!" and included a variety of activities, games, and tasty treats, including:
A "Kissing Booth" (where you had to guess how many Hershey's Kisses were in a jar!)
A photo booth
A pin-the-heart-on-the-Cupid game
Valentine card making
A photo slideshow that showed residents, tenants, and staff members with their loved ones
A harpist whose music added to the festive atmosphere
And lots of laughter and conversation!
As each attendee entered the chapel, Annette Pomerenke (Service Coordinator for the Lyngblomsten Apartments) and Shelli Beck (Lead Volunteer Coordinator for Lyngblomsten) gave him or her a pair of pink, sparkly sunglasses and a red-beaded necklace to wear.  More Lyngblomsten staff and corporate volunteers from UnitedHealthcare were in the chapel, ready to escort attendees to tables, pass out treats and drinks, take pictures at the photo booth, and help in any other way.
We here at Lyngblomsten hope you and yours are "loving your journey" together.  Happy Valentine's Day!