Lyngblomsten at Lino Lakes to open next month!
June 30, 2023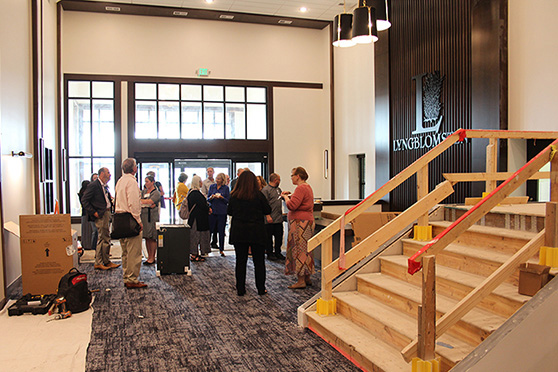 Caption: On June 26, members of Lyngblomsten's Board of Directors and senior management team participated in a strategic planning work session at the Lino Lakes campus.  The evening included a sneak peek of the main building (still under construction), along with dinner and discussions.  Pictured, board directors and staff catch up in the soon-to-be-finished lobby of the main building.  Lyngblomsten's most recent strategic plan (approved in 2014) included the goal of building a second campus to serve more older adults.
Lyngblomsten is excited to share that after many years of planning and 20 months of construction, its second community will open in just a few weeks!  Construction of Lyngblomsten at Lino Lakes will be wrapping up soon, and the first residents of the main building will move in in mid-July.
For more than a century, Lyngblomsten has served older adults on and near its Como Park campus in St. Paul, MN. We're blessed for the opportunity to expand our mission to enhance the quality of life to more older adults in the east metro area.
At the Lyngblomsten Board of Directors' recent sneak peek of the main building, many board directors shared sentiments of how welcoming the space is and how thrilled they are for the new friendships that will flourish in this community-centric environment.
 "It's so beautiful!" exclaimed Board Chair Debra George.
"The design, layout, and colors are all so interesting and inviting.
I can't be more excited for the new campus to open and
for people to move in and enjoy all the amenities."
  Look for more updates soon, including plans for a public Grand Opening!