In Memoriam: Wally Hauge, Lyngblomsten President & CEO 1980-1992
July 9, 2020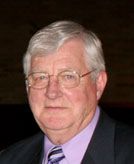 Former Lyngblomsten President & CEO Wally Hauge passed away on July 7, leaving the Lyngblomsten community grieving the loss of a man who was loved and admired for his substantial impact on the overall organization and on individuals who worked for or served the organization during his leadership.
Read the full press release here.
Lyngblomsten anticipates hosting a memorial service to celebrate Wally's life when gatherings on campus become possible again.