2nd Half with Lyngblomsten
A Center for Enriching Lives after 50
The COVID-19 pandemic has impacted senior service organizations across the state, including 2nd Half with Lyngblomsten.  Now more than ever, our mission of supporting adults ages 50+ in engaging, discovering, and thriving in the second half of life is needed in our communities.
2nd Half with Lyngblomsten continues to offer programs, resources, and support to older adults during the COVID-19 pandemic, albeit in a modified form. 
Following recommendations from the Minnesota Department of Health and other federal and state agencies, we've shifted to offering our programs virtually via telephone calls, emails, and online meetings.  No in-person opportunities will be offered for the remainder of 2020 (this includes The Gathering group respite program).
We're excited to be offering a variety of online programs and classes for adults ages 50+ to engage, discover, and thrive, from Armchair Traveler presentations to engaging discussion groups to evidence-based wellness classes. Check out our online catalog and sign up for something that interests you!
We also continue to offer services and support to caregivers. Visit our Caregiver Resources & Support page for more details.
What is 2nd Half with Lyngblomsten?
Engage | Discover | Thrive
2nd Half with Lyngblomsten is a life enrichment center that takes an integrative approach to supporting adults aging well in their communities.  Located in the east metro area, the centers are designed to connect older adults to community services, resources, and opportunities to enhance their quality of life.  Offerings focus on: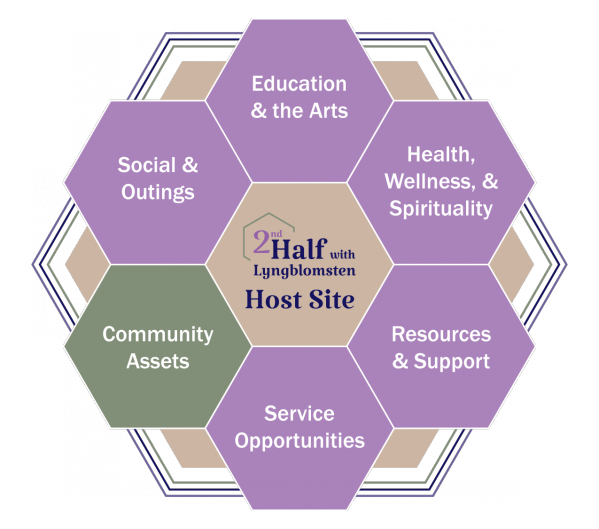 2nd Half with Lyngblomsten is designed to bolster socialization, encourage lifelong learning, promote health and wellness, provide support during life transitions, and help navigate opportunities and resources for enriching life's journey.  The continuum of offerings is designed to help older adults remain as independent as possible for as long as possible.
Locations:
Como Park & White Bear Lake
2nd Half with Lyngblomsten—Como Park
Located on the Lyngblomsten campus
1415 Almond Avenue
St. Paul, MN 55108 
2nd Half with Lyngblomsten—White Bear Lake
Located at Redeemer Lutheran Church
3770 Bellaire Avenue
White Bear Lake, MN 55110
www.rlc-wbl.org
Contact | Como Park:
Mary Deaner, Site Coordinator—Como Park
651.414.5293
mdeaner@lyngblomsten.org
Contact | White Bear Lake:
Lynn Amon, Site Coordinator—White Bear Lake
651.301.9445
lamon@lyngblomsten.org